Memorial fund established for Local 1386 member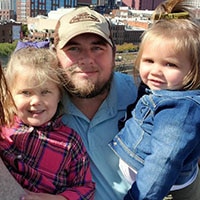 The family of Brother Curtis C. McConihay has established a memorial fund for his two daughters.
McConihay, 32, of Local 1386 (Parkersburg, W.Va.), was killed in an accident on CSX property in Washington, W.Va., on Dec. 14.
He was a U.S. Marine veteran and lived in Southside, W.Va., with his wife, Megan, and their two daughters, Madalynn and Alexis. He joined SMART-TD in May 2015 and was a conductor for CSX.
Contributions to the family can be made through PayPal at https://www.paypal.com/paypalme2/mcconihay.
"Please let us keep his family in our thoughts and prayers, as his family is now our family," said Local 1386 Chairperson W.R. Parsons. "We will keep his memory alive by remembering the good times as we are better people for knowing him. God bless his wife Megan and his precious daughters."